Embroidery Logo on the Hat —— Beginner's Guide
Jul 19,2023 | Foremost Hat
I. Introduction
Embroidering on hats has become a popular trend in the world of fashion and personalization. With its ability to add a touch of uniqueness and individuality to an accessory, hat embroidery has transformed a simple cap into a statement piece. From personalized initials to intricate designs, the art of embroidering on hats allows individuals to showcase their creativity and style.
In this essay, we will explore the history, techniques, and endless possibilities of hat embroidery, delving into how this age-old craft has evolved and continues to captivate the modern fashion industry.
II. Choosing the Hat Style and Material
A. Exploring different hat styles and materials available for customization
Baseball cap: a cotton cap of a kind originally worn by baseball players, with a large peak and an adjustable strap at the back.
Beanie: a small close-fitting hat worn on the back of the head. Some people wear beanies for sun protection, especially if they have thinning hair. Beanies also add style while covering bald spots.
Trucker hat: mesh cap or netback cap is a type of baseball cap.
Bucket hat: a simple soft cloth hat with a brim, worn mostly by workers to block them from the rain and sun.
Also, there're fedora, boater, Panama hat, straw hat, bowler hat, trilby, top hat, etc.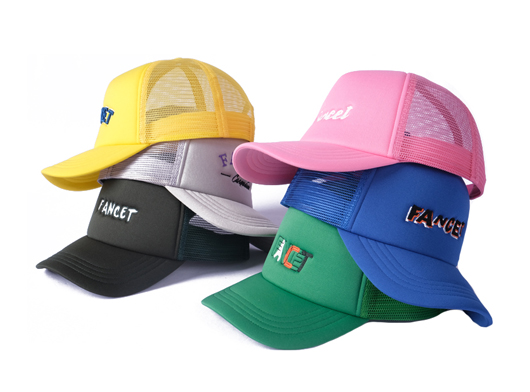 B. Considering factors such as comfort, durability, and suitability for embroidery
Here, you can use high-quality embroidery floss, secure all loose threads, or add some embroidery stabilizer to the back to protect stitches to improve comfort, durability, and suitability for embroidery.
III. Designing the Embroidery
A. Determining the desired design, logo, or text to be embroidered on the hat
For the design, the best file formats for embroidery are vector files (EPS, AI, or PDF). Otherwise, use a high-resolution bitmap file (PSD, PNG, JPG). Logo design proof – Check carefully to make sure the colors, sizing, and information are correct.
While selecting an embroidery design, provide the best quality images you can.
Fine lines and tiny details will make things challenging. You may even find that you need to make an image specifically for this purpose so that it's completely clear.
B. Considering the size, placement, and color scheme of the embroidery
Embroidery Sizing Standards: All hats and beanies' standard sizing is 120.65 mm x 54.61 mm (4.75"x2. 15").
C. Consulting with a professional embroiderer or using online design tools for assistance
For embroidery digitizing software, there is a wide range of prices from $20 for beginners to $3,000 for professionals. There is embroidery design software for specific projects such as embroidering canvas shoes. Also, you can purchase some of the most popular software, such as Embriallance and Brother for assistance.
IV. Selecting the Embroidery Method
A. Exploring different embroidery techniques, such as flat embroidery, 3D embroidery, or applique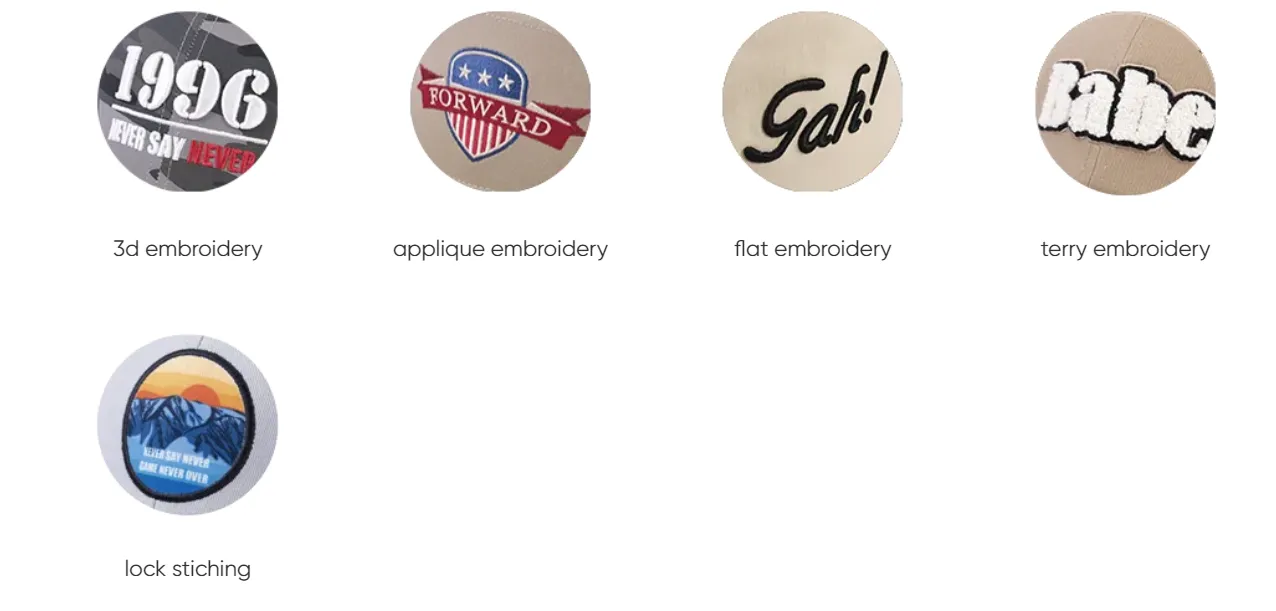 The major 3 types are flat embroidery, applique embroidery, and 3d embroidery.
FLAT EMBROIDERY, is the most popular and cost-efficient way to brand a cap. It can accommodate more complex lettering, offering more variations of spacing and sizes than 3D embroidery.
APPLIQUE EMBROIDERY, applique is ornamental needlework in which pieces or patches of fabric in different shapes and patterns are sewn or stuck onto a larger piece to form a picture or pattern. It is commonly used as decoration, especially on garments. The technique is accomplished either by hand stitching or machine.
3 DIMENSIONAL EMBROIDERY, it emerges from the surface of the cap and has the most dramatic texture. Your text or logo is highly visible and can be felt in contrast to the panels where it is stitched. Decorating a cap using this effect can enable your logo to pop up from the surface of a cap by up to 5 millimeters.
As for other kinds of embroidery, both needlepoint and petit point are types of canvas embroidery. They are both worked on even-weave needlepoint canvas instead of tightly woven fabric with a blunt-tipped tapestry needle.
B. Considering the texture, complexity, and desired effect of the design
On texture. A texture is usually described as smooth or rough, soft or hard, coarse or fine, matt or glossy, etc. Textures might be divided into two categories, namely, tactile and visual textures.
On complexity. The chain stitch is one of the most complicated stitches and is great for outlining as well as framing around a specific pattern or design. First, the needle is pulled through the fabric and then brought down beside where it was first brought up.
On Embroidery Design. First, you select a graphic design tool, canvas, or Photoshop. Then you pick your colors, set thread colors, and unlimited color embroidery. After that, follow the embroidery guidelines. Avoid small text and thin lines. Don't use negative space elements. Next, create your designs, and last, order samples.
V. Choosing Thread Colors and Types
A. Selecting thread colors that complement the design and hat color
Thread Matters: Choosing the Right Color
Use the complementary color of the predominant color of the background fabric or the appliqué piece. ...
Use an analogous color of the predominant color of the background fabric or the appliqué piece.
B. Considering the different types of threads available, such as polyester or rayon
Rayon is manufactured from wood pulp that is chemically dissolved and undergoes a multi-step process resulting in soft, lustrous rayon fibers.
Advantages of Rayon
Maintains its soft hand when the stitch count is high, keeping a balance between embroidery and fabric.
Available in the largest selection of weights, fulfilling all embroidery needs: general use, small lettering, economical fill, serging, and special effects.
Polyester, on the other hand, is a synthetic material with long, stable fibers that give it the strength it is best known for.
Advantages of Polyester
Bleach resistant and tolerant of harsh chemicals, it will hold up for workwear, uniforms, and commercially laundered linens.
Where cost is a factor, polyester is the less expensive thread.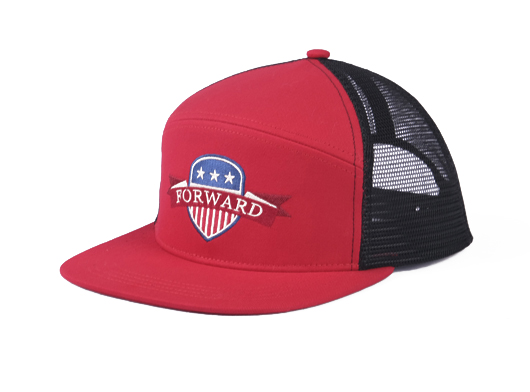 VI. Customizing Additional Features
A. Exploring additional customization options, such as adding personal names, numbers, or additional embellishments
If you're a fan of a certain football team or a celebrity, take your fandom to the next level by adding your favorite player to your cap with our exclusive Embroidigraph signatures.
Also, someone might embroider the logos on their hats using methods such as a custom patch, embroidery, heat transfer, direct-to-garment printing, and screen printing. It's not an easy process but the consequence would be surprising.
B. Considering the impact of these features on the overall design and aesthetic
Embroidery, is the art of decorating material, primarily textile fabric, using a needle and thread (and sometimes fine wire). The basic techniques include crewel work, needlepoint, cross-stitch embroidery, and quilting, as well as quillwork and featherwork. It's an art, that's why aesthetics matter and should be taken into account.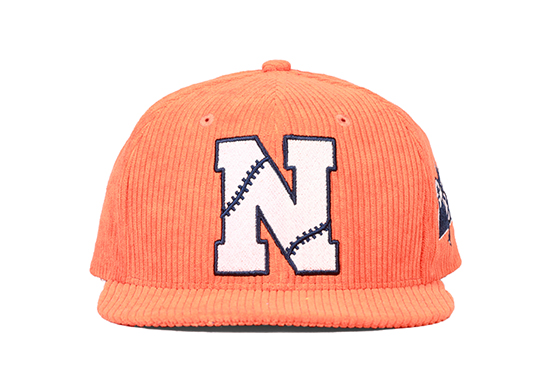 VII. Approving the Design and Production
A. Reviewing a digital or physical proof of the embroidery design before production
On digital embroidery. To put it simply, embroidery digitizing is the process of converting artwork into a digital file using software that allows embroidery machines to understand the needle's path. This process is not automated and in fact, great digitizing is considered an art form if done correctly.
B. Providing feedback or requesting adjustments if necessary
After you review the digital or physical proof of the embroidery design, provide feedback or further request adjustments if necessary.
Communication matters to your personal as well as professional life, every individual uses communication skill to connect, communication skill is used by writers, authors, and by creative people to spread knowledge and information, it is the foundation of all relationship, and also help to make the product better.
C. Approving the final design for production
That's the last step after you check the design, just start the production process.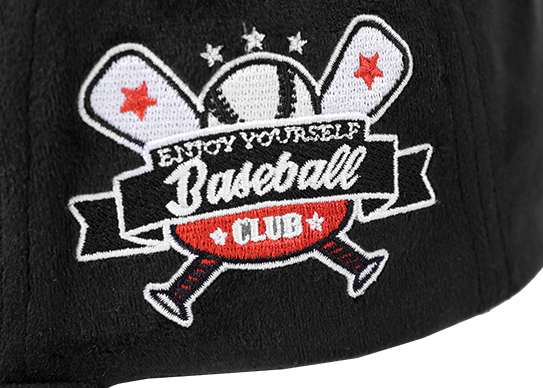 VIII. Production and Delivery
A. Handing over the approved design to the embroiderer or custom hat manufacturer
Hat manufacture. Hat-making or millinery is the design, manufacture, and sale of hats and other headwear. A person engaged in this trade is called a milliner or hatter.
After finishing all the process of designing, selecting embroidery methods, approving the design and production process, hand over the design to the embroiderer or hat manufacturer to produce products.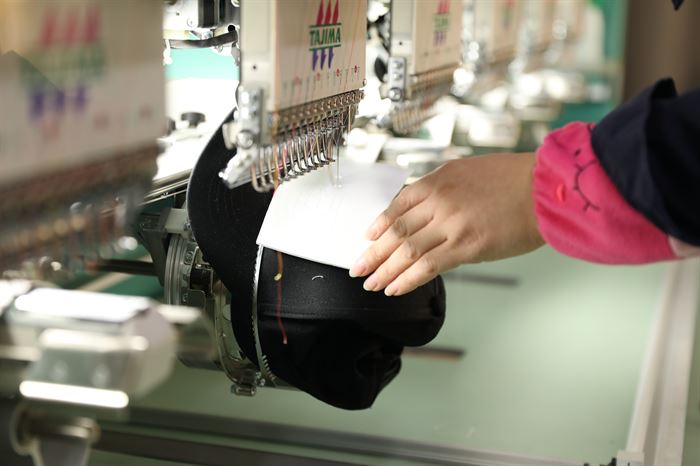 B. Allowing time for production and delivery, considering any customization or quantity requirements
Production schedule. A plan that helps facilitate the process of delivering products to customers and the marketplace. It's part of the larger supply chain in manufacturing and includes everything from procurement of raw materials and labor and logistics to the costs involved and a production timeframe.
IX. Care and Maintenance of Custom Embroidered Hats
A. Providing instructions for cleaning and storing the hat to preserve the embroidery
The best way to store hats is in boxes, baskets, or bags. Keep the ones you wear often on top and place a label on the front of the bin before sliding it onto a shelf. Delicate hats with brims can be stored in round boxes and stacked in the closet.
To prevent the hat from getting dusty, store your hat in its box – your hat will thank you. Otherwise store the hat in a breathable bag made from natural materials, for example, cotton. We recommend never storing a hat in a plastic bag as it can cause discoloration and promote mildew. These would help you preserve the embroidery.
B. Suggesting spot cleaning or hand washing instead of machine washing, if applicable
As for cleaning, cleaning a hat by hand is generally the most effective way to clean your hat, even if the label says it's safe to put in the washing machine. The types of hats best suited for hand washing include baseball caps (as long as you are not cleaning older hats with a cardboard bill), wool hats, and hand-knit hats.
Also, you can try spot cleaning. Dab the dirty areas of the hat with a slightly damp washcloth of warm water and mild non-bleach laundry detergent or dish soap. If the hat has some more pronounced stains and can withstand a little more, you can try using a soft-bristled brush like a toothbrush to swipe away the grime.
X. Conclusion
"Take your needle, my child, and work at your pattern; it will come out a rose by and by. Life is like that - one stitch at a time taken patiently and the pattern will come out all right like the embroidery." Oliver Wendell Holmes, Sr. quote about embroidery. The art of embroidery in itself is about hand-manufacturing, it's the mixture and combination of human wisdom and human technique.
"Ingenuity, plus courage, plus work, equals miracles." "Never tell people how to do things. Tell them what to do and they will surprise you with their ingenuity." The embroidery on hats is a combination of labor, from traditional rule to modern technology up now, embroidery develops, so long with human beings.
The hat is a small product, a fashion accessory, but the thing behind the hat is the hardship of workers and human wisdom. Foremost, the smart and hard-working artisans, with 20 designers, 70 sample makers, and 10000 styles exhibited in the showroom, are dedicated to providing suitable products with embroidery for you.

Are you in favor of embroidery, do you have any idea of embroidery and art, as well as museums? Leave your comments below and let us know if there's anything we can do for you!! We would like to hear from you and know what you're thinking about!!
コメント